Unless your family does serious mountain biking or serious road riding, most kids will be best served by an all-terrain, all-purpose bicycle. The bikes on this list can nearly do it all. They can serve as a commuter for rides to school and the ice cream shop. They can do longer family bike trips such as the Mickelson Trail in South Dakota.
In general, 24 inch bikes are appropriate for kids in the 7 to 11 age range, although this can vary depending on the size of the child and the geometry of the individual bike. (More on picking the correct-size bike later).
The list that follows contains our top picks for the best-quality kids 24 inch bikes. We've also included a comparison chart and tips to help you pick the best bicycle for your child.
Note: If you are looking for a more niche-specific 24″ bike, try one of these articles instead:
---
Table of Contents
---
How to Choose a 24 Inch Bicycle
If you're not sure what you should be looking for when shopping for a 24″ bike, here is a quick primer. You can also download our printable cheat sheet.
Budget
Because 24 inch bikes are *almost* adult-sized and have gears, they also are also *almost* the same price as adult bikes. Expect to spend at least $300 when buying new and closer to $500 or $600 if you want the best.
If that's more than you can afford, consider buying a used bike rather than downgrading to a big-box store bike. If that's the route you choose to go, check out our tips on how to find a quality used kids bike.
Age Range
The general rule of thumb for 24″ bikes is that they fit kids between 7 and 11 years old. This can vary quite a bit though depending on the bike and the child. Many manufacturers on this list market their bikes for kids ages 8 to 12, so make sure to look at the sizing chart for a specific bike before buying.
Measure your child's height and inseam and compare it to the manufacturer's specs.
Weight
The weight of a bike can make a HUGE difference in how far and how fast a child can ride–and how much they enjoy it. If you compare the bikes on our list to the weights of cheaper, big-box store bikes, you'll notice the massive difference in weight.
We recommend buying the lightest bike you can afford. We usually use budget as the #1 factor in choosing a bike, and weight as #2.
Brakes
There are three types of brakes you'll notice on these bikes–v-brakes (rim brakes), mechanical disc brakes, and hydraulic disc brakes.
V-brakes are the most common and also the cheapest. They work well enough under most conditions. If you live in a city where it rains alot, there are steep hills, or your child may be using their bike for some off-road, trail riding, then you may want to consider a bike with disc brakes. Amongst disc brakes, mechanical are the cheapest and also the easiest to maintain. Hydraulic disc brakes offer the best modulation and stopping power but add cost and maintenance.
Disc brakes (left) offer the best stopping power but are more expensive and require more maintenance than traditional rim / v-brakes (right).
Tires
Consider the type of riding your child is going to be doing. If they will be riding 100% of the time on pavement, you want to look for a bike with slick, fast-rolling tires. If they're going to be spending time riding dirt, gravel, grass, mud, etc, you want to make sure the tire is a little wider and has some extra tread.
Even if the bike you are considering doesn't have the best tires for your child's preferred type of riding, you can always swap out tires later.
A Note On Gender
There is no difference between a boys 24 inch bike and a girls 24 inch bike. Unlike adult bikes, where there may be true gender differences (like a sloped top-tube, women's specific saddle, etc), kids bikes are kids bikes are kids bikes.
If you are just looking for a "feminine bike" for your kiddo, check out our article on the Best Bikes For Girls which has lots of ideas on how to make a bike more girly and what bikes come in feminine designs and colors.
Otherwise, feel free to buy any bike for your child, regardless of a gender description in the name.
---
5 Best Kids 24 Inch Bikes
If you're looking for a lightweight, high-quality bike for your child, you want one of the bikes on our top 5 list.
| | | | |
| --- | --- | --- | --- |
| | Bike | What We Love | Price (MSRP) |
| 1 | Woom 5 | Lightweight, child-appropriate geometry | $499 |
| 2 | Prevelo Alpha Four | Low standover height, great customer service | $499 |
| 3 | Frog 62 | Beautiful colors, comes with fenders | $550 |
| 4 | Cleary Meerkat 24 | Hydraulic disc brakes, internally geared hub | $594 |
| 5 | Pello Reyes | Tubeless-ready wheels, mech disc brakes | $599 |
---
Woom 5
Woom makes our favorite bikes for little kids, and they also make our favorite bikes for big kids. The Woom 5 is exceptionally light and fast which makes it nice for long rides around town or even bike camping and touring (thanks to the optional fenders).
It boasts high-quality parts such as SRAM 8-speed grip shifters, fast-rolling Schwalbe tires, and Jagwire cables.
And in spite of all this fabulous stuff, it still manages to be cheaper than our other "Top 5" picks.
Price: $499
---
Prevelo Alpha Four
There aren't many kids bikes built with the same quality you would expect in an adult bike–but the Prevelo Alpha Four is one of them.
All of the components are top-notch including Tektro v-brakes, sealed cartridge bearings, and a Shimano drivetrain. Thanks to this high-quality build the Alpha Four can be handed down (or sold) without a problem.
Price: $499
---
Frog 62
The Frog 62 is a flashy-looking, lightweight 24″ bike from the UK. Of all the bikes we've tested over the years, the Frog bikes probably get the most attention from passerby thanks to the bright paint job and small attention to details–colored spokes near the valve, small frog decals on the frame and saddle, etc.
The bike doesn't just look good though. It also has high-quality, adult-level components. In addition to the 8-speed Shimano drivetrain, the bike has custom-cranks, Tektro v-brakes, and fenders.
Price: $550
---
Cleary Meerkat 24
The Cleary Meerkat is a BEAUTIFUL 24″ kids bike that performs as well as it looks. The bike comes in a variety of bright colors and has a durable steel fork and frame.
The hydraulic disc brakes add lots of stopping power which makes them ideal for wet climates and cities with lots of hills. The other thing that makes this bike stand apart is the 5-speed Sturmey Archer internally geared hub. This means that there is no rear derraileur to get bent or dirty.
Thanks to the beefy Kenda tires the bike is also ideal for riding gravel roads and other off-pavement trails.
Price: $594
---
Pello Reyes
Like the Cleary Mearkat, the Pello Reyes is also a great do-it-all bike. Thanks to the more aggressive tires, the bike can be used as a school commuter as well as on the local pump track.
The Tektro mechanical disc brakes offer better stopping power than the rim brakes found on most kids bikes, which make them ideal for families living in wet climates or in hilly areas. We also LOVE the fact that the bike comes with tubeless-ready wheels. Tubeless tires rarely go flat and require so much less maintenance than tubes.
Should you want to add a suspension fork, that's an option as well.
Price: $599
---
5 Best "Budget" Kids 24 Inch Bikes
While these bikes may not offer the same bells and whistles as those on our Top 5 list, if you are looking for a good durable bike at an affordable price, these bikes will fit the bill.
Vitus 24
In terms of value, the Vitus 24 really can't be beat. It's intelligently designed with child-appropriate geometry and brand name componenets–Tektro brakes, Vee Rubber tires, and a Shimano drivetrain.
If you want high-quality bike at a more affordable price that some of the bikes listed above, this is the bike you want.
Price: $330
---
Trek Precaliber 24
With the Trek Precaliber 24, you get an affordable bike with a brand name and the opportunity to support your local dealer.
The bike is heavier than those in our Top 5 list, but it comes with decent components that will last thru a kid or two. The bike has 7-speed Shimano grip shifters and Bontrager tires.
Price: $350
---
Guardian Ethos 24
The Guardian Ethos 24 is a budget-friendly version of the Guardian Ethos 24 (listed later on), but has the same great proprietary SureStop braking system.
The SureStop braking system uses a single brake lever to apply appropriate force to both the front and rear wheels. This helps prevent over-the-bars crashes, and makes it a great choice for safety-concious parents and/or kids who struggle with eye-hand-coordination.
Read Our Review: Guardian 24 (this is a review of the more expensive Guardian Original, but will give you a good understanding of the braking system)
Price: $339
---
Co-Op Cycles REV CTY
If you have a 20% off coupon and an REI dividend burning a hole in your pocket, the Co-Op Cycles REV CTY is worth some serious consideration. We like the Shimano drivetrain and the fast-rolling Kenda tires.
What we don't dig is the considerable weight–the REV CTY tips the scales at a hefty 26 pounds.
Price: $349
---
Raleigh Redux 24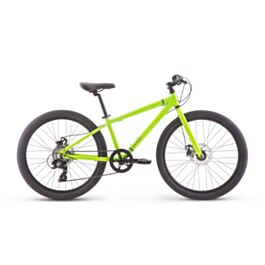 The Raleigh Redux 24 offers a killer value. We don't know of any other bikes at this pricepoint that offer mechanical disc brakes and brand-name components.
The mechanical disc brakes are great for families that ride in wet or dusty climates, though they can cause hand fatigue for some young riders. Other components include Kenda tires and a Shimano 7-speed drivetrain.
Price: $330
---
Honorable Mentions: 24 Inch Bikes
While we highly recommend the bikes on our Top 5 list, the following bicycles are worth a look as well.
Guardian Original 24
Guardian Bikes are some of the safest kids bikes around thanks to their unique SureStop braking technology. The Guardian Original 24 is their top-of-the-line 24 inch offering and we dig it.
In addition to the super safe braking system, the bike offers easy-to-operate Shimano grip shifters and a 7-speed drivetrain.
If you're not super bike savvy, no problem. Guardian offers easy assembly, helpful videos, and exceptional customer service.
Read Review: Guardian Original 24
Price: $439
---
Ridgeback Dimensions 24
The Ridgeback Dimensions 24 is a shiny, around-town bike that will look good locked up at school. Ridgeback is another UK company that knows how to make nice kids bikes. The aluminum frame included eyelets to install fenders and a rear-rack should you choose to do so.
Price: $450
---
Priority Start 24
The Priority Start 24 is unique in that it uses a belt-drive rather than a chain. We love this! The belt drive is grime-free, won't stain your kids pant legs, and requires minimal maintenance.
Speaking of minimal maintenance, the bike also has an internally-geared hub. It has three different gears that shift automatically. This is great for kids who don't have the dexterity yet to shift, and for parents who don't want to deal with maintaining the drivetrain.
Price: $399
---
Islabikes Beinn 24
As of fall 2018, Islabikes is no longer offering their bikes in the North American market. (Sad!) This was previously listed as one of our Top 5 bikes, and we are leaving it as an honorable mention in case you are lucky enough to find one used.
Islabikes is THE original kid-specific bike company and maintains its excellent reputation and cult-like following. Serious bike families LOVE Islabikes thanks to the child-appropriate geometry, lightweight, and resale value. Thanks to accessories like fenders and a luggage rack, the bike is ideal for around-town commuting or longer tours. The only bummer is the price–which is significant when compared to other 24-inch bikes.
Price: N/A
---
Cannondale Quick 24
The Cannondale Quick 24 is capable of tackling paved city streets, gravel rail trails, and grass fields thanks to it's all-around knobby tires.
All the components are brand-name including Kenda tires, Tektro brakes, and a Shimano Tourney drivetrain. It also weighs in at a totally respecatable 20 lbs, making this a great bike for any child.
Price: $420
---
Comparison Chart: 24″ Kids Bikes
| Bike | Price (MSRP) | Weight (lbs) | Minimum Seatpost Height | Frame Material/Design | Drivetrain/Shifters | Brake System | Rims | Tires |
| --- | --- | --- | --- | --- | --- | --- | --- | --- |
| Woom 5 | $499 | 18.1 | 26.5" | Alu Alloy | SRAM | V-brakes | Supa Dupa Hoops (In-House) | Kenda Small Block 8 |
| Trek Precaliber 24 | $359 | 27.0 | 25.2" | Alu Alloy | Shimano | V-brakes | Bontrager | Bontrager XR1 |
| Cleary Meerkat 24 | $594 | 24.0 | 25" | Steel | Sturmey Archer | Hydraulic Disc | Alex | Kenda Small Block 8 |
| Prevelo Alpha 4 | $499 | 21.2 | 25.8" | Alu Alloy | Shimano | V-brakes | In House | Kenda Small Block 8 |
| Islabikes Beinn 24 | $650 | 19.5 | | Alu Alloy | SRAM | V-brakes | In House | In House |
| Co-op Cycles REV CTY | $329 | 26.1 | | Alu Alloy | Shimano | V-brakes | In House | Kenda Cosmos |
| Ridgeback Dimensions 24 | $450 | 26.1 | | Alu Alloy | Shimano | V-brakes | In House | Kenda Kwest |
| Frog 62 | $550 | 20.3 | 26" | Alu Alloy | Shimano | V-brakes | In House | Kenda K154 |
| Guardian Original 24 | $439 | 23.0 | 25" | Alu Alloy | Shimano | V-brakes (SureStop) | In House | Kenda |
| Pello Reyes | $599 | 22.0 | 25.5" | Alu Alloy | SRAM | Mechanical Disc | Alex | Kenda K-Rad |
| Priority Start 24 | $399 | 23.3 | 27" | Alu Alloy | Shimano | V-brakes | In House | Kenda K-Shield |
| Cannondale Quick 24 | $419.99 | 20 | 25.4" | Alu Alloy | Shimano | V-brakes | In House | Kenda Small Block 8 |
| Guardian Ethos 24 | $339 | 25.5 | 25" | Steel | Shimano | V-brakes (SureStop) | In House | Kenda |
| Raleigh Redux 24 | $329.99 | 24 | 27.2" | Alu Alloy | Shimano | Mechanical Disc | In House | Kenda Kruiser |
| Vitus 24 | $329.99 | 22.7 | 27.2" | Alu Alloy | Shimano | V-brakes | In House | Kenda Small Bloc |
---
More Articles To Help You Make The Best Decision
Get Your FREE Printable Bike Buying Cheat Sheet
Don't waste your time or money by choosing the wrong bike!!!
Our FREE kids bike buying guide addresses:
What brands are best

Where to shop

How much to budget

Where to find deals

How to measure your child for a bike