Finding a bike helmet for a baby or toddler is HARD. There just aren't that many bike helmets that are small enough to fit little ones. Even a trip to the local bike shop is likely to leave you empty-handed.
But not to worry. There ARE bike helmets that are small enough to fit even the smallest riders. Here's a round-up of what we consider the best toddler helmets and the best baby helmets. If you're looking for a good helmet for your little rider, look no further than this list.
Note: For older kids, check out our list of the best kids helmets.
---
5 Best Baby + Toddler Bike Helmets
*Amazon pricing updated 2021-05-30 at 05:09 – More Info
---
Kali Chakra Child
The Kali Chakra Child is the helmet that my son wears on a near-daily basis. If you are looking for an attractive mountain bike style helmet, this should be your pick. In fact, I think the reason my little boy likes it so much is that it looks cool like Daddy's mountain bike helmet.
The Chakra's design offers a visor for sun-protection and back of the head coverage. An adjustable dial makes it easy to fit. With all these features at a very affordable price point, I don't think this toddler helmet can be beat.
Read Review: Kali Chakra
Head Circumference: 48-54cm
Price: $35.00
---
Giro Scamp w/ MIPS
The Giro Scamp is one of only a few toddler bike helmets on the market with MIPS technology.
So what the heck is MIPS? MIPS stands for "Multi-Directional Impact System." It's a technology being implemented in more and more top-of-the-line helmets to better protect against "rotational violence." In other words, it protects against falls where the head hits at an angle. To learn more, read my article on MIPS helmets for kids.
The other great thing about the Scamp is that it fits TINY heads. If you have a 12-month-old or 18 month old, the Giro Scamp probably offers the best fit you can find.
Read Review: Giro Scamp
Head Circumference: 45-49cm (XS)
Price: $59.95 (Last updated: 2021-05-30 at 04:35 – More Info)
---
Bell Sidetrack
The Bell Sidetrack is one of our favorite helmets for both big and little kids. The "child" size is perfect for toddlers and offers all the features of a more grown-up helmet. It comes in both MIPS and non-MIPS versions and offers excellent rear of the head coverage.
Perhaps, most importantly, the helmet looks cool and comes in several bright colors and designs. The only thing we're not crazy about on the Bell Sidetrack is the cheap buckle. It can be tough to fasten which is hard when you have a wiggly toddler on your hands.
Read Review: Bell Sidetrack
Head Circumference: 47-54 cm
Price: Price not available (Last updated: 2021-05-29 at 19:05 – More Info)
---
Joovy Noodle
The Joovy Noodle a wildly hot-selling helmet and for good reason. It's affordable, is lightweight, and stays in place on little heads. The front vent holes are also covered in mesh which is nice for kids riding in trailers who might get hit by bugs.
The helmet also comes in a wide array of bright, primary colors so you're sure to find a good-looking helmet you like–that's not overly "cutesy."
Head Circumference: 47 – 52 cm (Small)
Price: $25.99 (Last updated: 2021-05-29 at 19:05 – More Info)
---
Uvex Hero
The Uvex Hero is well-built thanks to its durable in-mold construction. It also has a generous visor which does a good job protecting your little one's face and eyes from the sun.
But where this helmet really shines is it's unique ratching buckle. Unlike a traditional buckle that can easily pinch your little one's neck, this one slowly closesly rather than snapping into place. This means less pain and tears.
Head Circumference: 49-54 cm (one size)
Price: (Last updated: – More Info)
---
Nutcase Little Nutty With MIPS
Everybody I know loves Nutcase helmets, primarily because they are cute. The Little Nutty comes in a wide variety of colorful and fun designs. All the cool kids choose Nutcase helmets.
The other nice part about the Nutcase helmets is that they are good for scootering and roller skating as well as biking so you don't need more than one helmet.
They've recently added MIPS technology to their helmets, which has elevated this lid in our minds.
Head Circumference: 48-52cm
Price: $69.99
---
Lazer P'Nut MIPS
Like the Scamp, the Lazer P'Nut also offers top-of-the-line safety by incorporating MIPS technology. But the awesomeness of this helmet doesn't stop there. There are several different styles of "nutshells," covers that you can buy separately to change the look of the helmet. These fun designs include a fireman hat and a space ship.
The P'Nut doesn't just look good–it's also super functional. An Autofit® Retention System automatically sizes the helmet to your child's head–no dial required.
Head Circumference: 46-50cm
Price (MSRP): $75
---
Melon
The Melon is my favorite skate-style helmet for young kids. It comes in a mind-boggling variety of colors and designs to fit any toddler's fancy. The magnetic buckle keeps chins from getting pinched, and the helmet provides good head coverage. Compared to other skate-style helmets, the weight is also considerably less which is important for little cyclists.
Read Review: Melon
Head Circumference: 46 – 52 cm (Small)
Price (MSRP): €49.95
---
Specialized Mio MIPS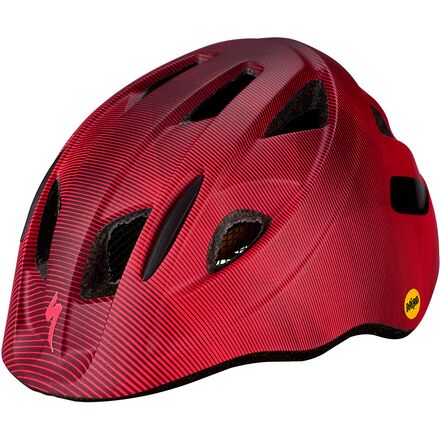 *
Here's a helmet you can actually find at a local bike shop. The shape of the helmet is designed to be used in a trailer (the back is flatter than most) which makes this a great pick if your little one is spending most of their time being towed.
We love the magnetic buckle (no more pinched chins), mesh-covered vent to keep out bugs, and reflective decals. This is a huge step up from Specialized's previous infant helmet, the Small Fry.
Specialized has also recently updated the helmet to add MIPS technology, which is rad.
Head Circumference: 44-52cm
Price (MSRP): $55
---
Comparison Chart: Toddler and Baby Bike Helmets
Not sure how all these helmets stack up? Here's a comparison in an easy-to-read chart.

---
How To Choose The Best Helmet For Your Baby or Toddler
Here are some things to consider when choosing a helmet for your little one.
Weight
Little necks are not very strong. Therefore, we think one of the most important things to consider when buying a helmet for your baby or toddler is how much it weighs. The less it weighs the less pressure it is going to put on your child's head and neck, and the more comfortable the helmet will be on them.
We've seen plenty of babies and toddlers refuse to put on a helmet. That's usually because it is too heavy or doesnt fit well. In other words, it's uncomfortable!
Buckle Type
Wiggly toddlers are the toughest age to get a helmet on (and off)! That's why we like helmets that buckle and unbuckle easily. We also look for buckles that are less likely to pinch your child's neck skin. I'm sure you have a memory of having your neck pinched in a helmet buckle as a good–lots of tears!
Most helmets are going to come with a traditional-style buckle. That said there are a few helmets on this list that have magnetic or rachet style buckles (the Uvex and Melon, for instance). These are less likely to pinch your child's neck and are also faster and easier to get on and off.
For some kids this might not matter that much, but if you know you have a child that resists helmets or is hard to wrestle down, this is something to consider.
Age
Before you buy a helmet, you should also make sure your baby is actually ready for a helmet! Your child needs to have good neck strength before introducing additional weight to their head.
For most babies, this happens around 12 months old. For more information, read our article on biking with a baby.
Head Circumference
We can't emphasize this one enough: measure your child's head circumference BEFORE ordering a helmet. Kids are all over the place on head size, and just because one mom said a helmet for her two year old, doesn't mean it's going to be a good fit for your two year old.
Look for a helmet where your child's head circumference is in the lower end of the size range so they have room to grow with the helmet. On the other hand, don't be tempted to order up a size. If a helmet is too big, it's not going to be safe.
Ventilation
Smaller bike helmets are notorious for having poor ventilation. Make sure the helmet you're buying has plenty of vent holes. This is particularly important if your little one is riding their own balance or pedal bike. If they are just sitting in a trailer or bike seat, this is less critical. Which brings us to our next point….
Use
Consider what kind of use your child is going to be using the helmet for most of the time. If they are riding a bike, look for good ventilation. If they are sitting in a trailer or bike seat, look for a helmet with a flat-ish rear. This will make it more comfortable for your child to lay there head against the back of the seat.
Certifications and MIPS
All bike helmets sold in the U.S. have a CPSC certification, so you can breathe easy that any helmet is going to do a reasonably good job of keeping your child's head protected.
That said, if you want to be extra sure that your child's head is protected to the max, you could also look for a helmet with MIPS technology. MIPS provides an extra protective layer that mitigates against rotational force to your child's head in the event of an impact.
---
Other Resources